We welcomed the Christmas season with live music for our board dinner provided by Ellie Arguimbau and Mary Lou Kinsey

New Hours at the ReUse Store
9 to 5 Wednesday - Saturday
If there are volunteers!
Call 786-6013 to be sure.
At this time we are holding applications for homeownership
until we have more volunteers to help.
Upcoming Events

Christmas Potluck, 7 PM, December 12,
Mountain View Congregational Church, Kellogg
Other Fund-Raising
Fuller Center for Housing, Inc.

Judy presents a check for $1040.90 to Steve Knox of the Rose Lake Quick Response Unit. We share the profits from the Ride the Wall bike event with the QRU.


When Dave Rust was erecting the posts to hold the snow roof the Rusts donated, one of the machines broke through the top of an old septic tank. Thankfully no one nor machine was hurt.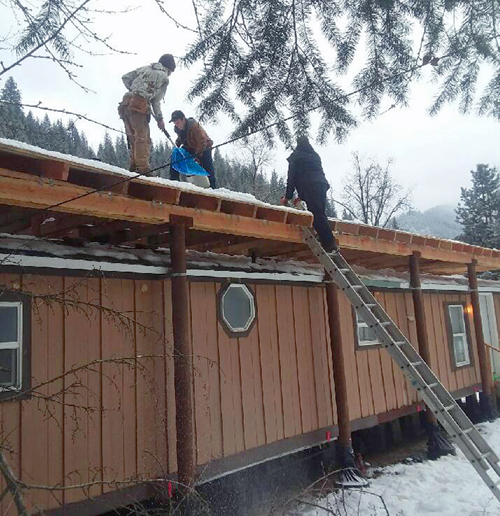 Dave Rust helps the roofers, Kodie Jesus and his friend, Jerry, clear the snow before stapling the felt onto the snow roof. In addition to finishing the snow roof, the hole needs to be filled, the roof supporting poles need to be completely stabilized, back stairs have to be in place and Krista's pump and pump house need repairing.