Mailing address:

PO Box 338,

Street Address:

709 Main Street,

Phone:

208-786-6013


*********
Our office is at the ReUse Store open Wednesday - Saturday 9 to 5. When we are closed, if you have an emergency to be handle by the office, call 682-3240.
Call Glory Carlile for questions
about family selection at 512-2825

Call Judy - 208-682-3240 for information about our upcoming fund raisers.
We are not working on a home construction project at this time. There are some construction projects, however, at the ReUse Store at 709 Main St., Smelterville and various Greater Blessings projects.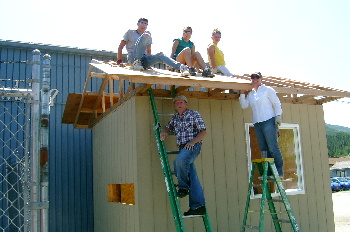 Shoshone Base Camp youth are helping construct the "Little Shop."

This building was raffled off when completed.

We do have some similar sheds available for sale. Call 786-6013.