The organization started as Silver Valley Habitat for Humanity and began building its first "simple decent" home located in Kingston, Idaho, in the spring of 1994. It took about a year to complete it. Since then the Silver Valley group has built about one home a year in various locations in the Silver Valley—one each in Woodland Park, near the Rose Lake Junction, Page, and Pinehurst and six on Sunny Slopes above Osburn. They also refurbished 3 HUD-$ homes given by Shoshone County the first in Pinehurst, the second in Silverton, ant the third in Mullan. They relocated a singlewide mobile home to a lot in Osburn where they built a permanent cover and did major repairs inside. Two homes were dedicated in 2006. Two more homes were dedicated in 2010 and # 18, a remodel in Smelterville, in 2011. Another is started at Sunny Slopes.
Those accepted as future homeowners must earn "sweat equity" hours before being able to purchase their homes with a no-interest mortgage.
With the small population of 13,000, we rely on visiting work parties to help—both RV adult crews and youth groups.
The organization joined the Fuller Center for Housing in August, 2009. In addition to their focus on constructing & renovating homes with new homeowners, at this time they adopted the "Greater Blessings Program" helping repair homes.
Silver Valley Fuller Center for Housing opened a ReUse Store in 2011 at 709 Main Street, Smelterville. The office is located there.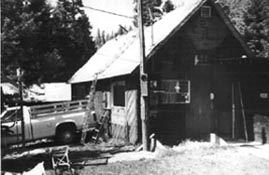 Our first home: Beginning construction in 1994, this house with tar paper siding was torn down and replaced with the
2-story home below.
Photos by Roger Fulton & William Bunton