At the October meeting, the Board of Directors voted to accept an offer to sell the property of the ReUse Store. We will have to be completely out by May 2018. Shown above are Bob Larson, Darnell Kriedeman, Duane Little, Kathy McPeak, and Verne Blalack. Photo by Judy
New Hours at the ReUse Store
9 to 5 Wednesday - Saturday
If there are volunteers!
Call 786-6013 to be sure.
At this time we are holding applications for homeownership
until we have more volunteers to help.
Upcoming Events

Christmas Potluck, 7 PM, December 12,
Mountain View Congregational Church, Kellogg
Other Fund-Raising
Fuller Center for Housing, Inc.

Here are some of the items donated for our Christmas raffle at the Silver Valley Arts and Craft Fair. The auto emergency kit in back is from Les Schwab Tires. The two wrapped collections are from Bitterroot Mercantile and the beautiful white geode is from Papa's Barn. So sorry to see the Bitterroot Mercantile and Papa's Barn closed.


Electrician, Josh Haralson, watches as backhoe operator Otis Elmquist of Panhandle Pipe and Welding carefully digs around the wires behind the trailer we are installing to replace the one ruined by the hungry bear in 2016. We are indebted to AVISTA for donating the installation of an underground service from their transformer to the trailer. This eliminated the need to put up a new power pole.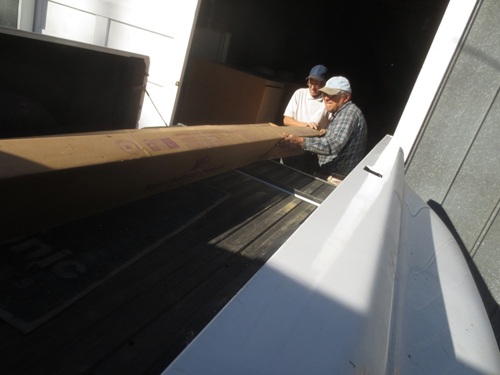 Verne Blalack and John "Boy" Delaney load a box of siding from the warehouse in Osburn. Dave Farnsworth originally donated the use of this building to us in the '90s and Don Berger continued allowing us to use it after he bought the property when Dave died. However, with the collapse of some of their other storage buildings due to snow, Building Maintenance needs the space. We certainly appreciate their generous donation all these years.