Our Greater Blessings committee and Verne meet with Paulette
Ross to evaluate her application for a replacement carport.
Her old one collapsed on her car last winter while she was
sick and unable to shovel the frozen snow.

New Hours at the ReUse Store
9 to 5 Wednesday - Saturday
If there are volunteers!
Call 786-6013 to be sure.
At this time we are holding applications for homeownership
until we have more volunteers to help.
Other Fund-Raising
Fuller Center for Housing, Inc.


View of the Trail of the Coeur d'Alenes from the CCC Road where our 19th Annual "Ride The Wall" will go.


Judy Blalack and Tom Richards meet to discuss how to set up the "Ride the Wall" event using online registration with the help of Brenda Barton at The Fuller Center International.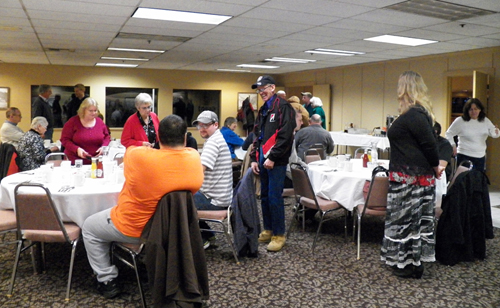 The SVFCH Board of Directors, volunteers, and special friends enjoyed the retreat dinner at the Wallace Inn.